Summer of Sonic: The Swag up for Grabs
by Tristan Oliver
August 28, 2009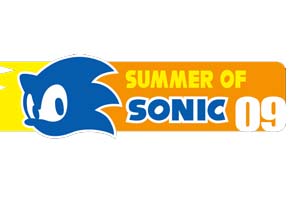 Sega's Treasure Trove of Sonic Stuff Inside
It's being dubbed the "Prize Table of Doom."  And if you're going to the Summer of Sonic convention tomorrow at London's Brick Lane, some of it could be yours.
All the stuff you see in the photo below constitutes what will be given away at this year's SoS.  A tremendous cross-section of swag is represented, from T-shirts to stickers and soundtracks, keychains, and much more.  There are even a few special items on that table, including an XBOX 360, some Sonic comics, a Sonic bag, and a rare original soundtrack for NiGHTS into Dreams.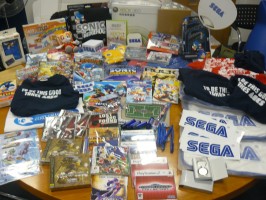 The material will be given away as prizes for competitions and other events as the day rolls on.  And, yes, according to AAUK, all of it will be given away–"one way or another," in his words, according to SEGA Europe's Flickr.  It appears a lot of fans in attendance tomorrow will have something special to go home, aside from that special art book.  The UK based TSSZ News team will  be there–be sure to come back tomorrow for our team's recap of this year's Summer of Sonic, and their impressions of the games on display.