M&S Winter Olympics ESRB Rating Drops New Details
by Tristan Oliver
August 31, 2009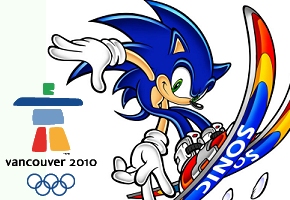 Possible Dream Events Disclosed
Sometimes, you have to look at the most mundane documents to see more of the juicier details.
Such may be the case with Mario and Sonic at the Olympic Winter Games, and more specifically the game's recently disclosed ESRB rating.  It's not the rating itself that's grabbing news–anyone could have told you the game, out next month, would get an E for Everyone classification–it's the description, or ratings summary, that should be of note:
This is a sports game in which players select characters from the Mario and Sonic the Hedgehog franchises to compete in the Winter Olympic Games. Players can participate in conventional winter sports (ice hockey, skiing, and curling) or engage in more whimsical mini-games such as snowball fighting, collecting orbs in a colorful slide, and shooting turtle shells at opponents while hang gliding. The shells make realistic gunfire sounds, and there is a brief orange explosion when characters are hit.
So, the big news out of such a simple summary is that among the events planned for M&S include something involving orb collecting–maybe blue spheres?–and something resembling a hang gliding aerial attack.  Talk about your dream stages.
Thanks go out to AugieD for sending the information in via our News Tips system.  If you have news we haven't uncovered yet, be sure to tell us by clicking "News Tips" at the top of every page.