Andy C: Summer of Sonic 09 Review
by Andy C
September 1, 2009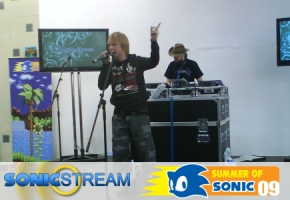 Listen to the Bentley Jones interview!
Summer of Sonic was a great day for all involved. There was some amazing stuff in London on Saturday! Thanks go out to Kevin Eva, Svend Joscelyne and everyone else who organised this event! There are so many of you, I forget your names!
Me and Mike were both there and checked out Sega All-Stars Racing. I usually suck at racing games but did well with this one. Mike is a genius and owned.
Bentley Jones was there and performed some tracks from his album and a very special rendition of "They Call Me Sonic". A little while after Bentley was on stage, we got the chance to have a chat with a friendly kind of chap who gladly answered all our questions. Yes, Bentley Jones! Rumours of a second album are rife and he was rather coy but hopeful with his comments.
Interestingly, you won't hear what happened after the tape stopped rolling. I used the opportunity to ask Bentley some very important questions in Japanese. Both of us being English, we talked about the weather… and a glorious day it was. Apologies for anyone who can not read the following but we thought we were pretty cool.
アンディー:始めまして、アンディーです。どうぞよろしく。
ベントリー:ハッハ、始めまして。どうぞよろしく。
アンディー:元気ですか。
ベントリー:はい、おかげさまです。あなたは?
アンディー:はい、ありがとう。ベントリーさんは、とても丁寧な男の人ですね!今日は、どうですか。
ベントリー:ももすごいですよ。
アンディー:はい、そうですね。いつ、日本に行きますか。
ベントリー:えと、十。。。十月、東京に行きます。
アンディー:ワオー!ぼくも!
ベントリー:ハッハ、そうですか。
アンディー:はい!!
アンディー:今日の天気もいいですね。
ベントリー:えっ、そうですね。
You can check out the interview here (right click and save as): Andy C and Mike T talk to… Bentley Jones.
Kevin Eva (ArchangelUK) changed clothes and costume many times. His most amusing costume was this one (Wentos) whilst he was giving away free stuff to the lucky people who managed to find a golden ring…
AAUK also did some stunning work with all the fansite information of which TSSZ News was included. Here's the most important shot of the day…
Stay tuned for a transcript of mine and Mike's interview with Bentley and more stories from the UK TSSZ team.