Summer of Sonic: Clean Stage Audio now Available
by Tristan Oliver
September 7, 2009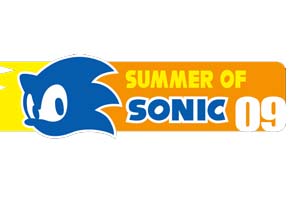 6 Hours of Sonic Stuff, Considerably Cleaned Up
There have been a few recordings from the Summer of Sonic floating around; some have audio only, some include video.  Not all have been perfect, though, and efforts have since been underway to preserve the convention that was in London.
Enter Graham Seward of FastFeet Media, who recently produced and enhanced a six hour recording of SoS's stage events.  That includes the Q&A with Sumo Digital and with the two Nigels from Sonic the Comic, the Bentley Jones performance, and various DJ stints.  In all it's 300 MB to download.
Says Seward on the quality:
Whilst SegaSonic:Radio recorded all 6 hours of the days events from the stage, it wasn't in a good enough quality to simply hand over to you guys. So out of the kindness of my heart I went through the entire recording and re-compiled/edited it so it's a bit more listener friendly shall we say. Unfortunately there are some piano noises throughout the recording and there's nothing we can do, blame Roareye from SSN for that one as he left his "musical" screensaver on!
You can grab the file by heading to FastFeet Media.