New Video: Let's Tap Games to iPhone/iPod Touch
by Tristan Oliver
September 18, 2009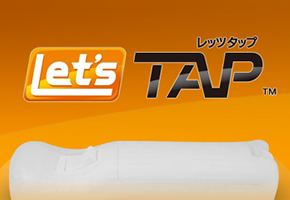 Tap Runner Already Available, Many More to Come
Yuji Naka's Prope studio isn't just revolutionizing how you use your Wiimote to play games.  They've also done it with your iPhone or iPod Touch.
The best evidence of that is the current release of the Let's Tap minigame Tap Runner to the App Store.  Costing $3.99, the game not only allows you to use the peripheral's touchscreen to get through those obstacles, but you can also play in the original "Tap" mode–where you set the device on a box and tap your way through the game.
But that's not all coming down the Prope pipeline.  According to the iPrope website, all the major modes from Let's Tap will be available in a portable edition by the end of October.  Next to be released is the Gem Game on September 25th.  Silent Blocks will follow the next week, and Bubble Voyager will follow the week after.  The release of Rhythm Tap will cap it all off on October 16th.  Prices for these titles are to be determined.
If you are interested in taking Let's Tap with you, it may be helpful to show how you will interact with the game on the Apple device.  Prope thought of that too–it's why they have put together this demonstration video, which we have for you below.  You can see deeper demos of what's to come via Prope's YouTube channel.