High Scores for M&S Winter Olympics in ONM
by Tristan Oliver
September 25, 2009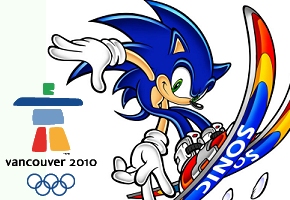 Wii Edition Scores a 90, the DS Edition Even Higher
Subscribers of the UK's Official Nintendo Magazine are expected to receive copies of the latest issue today.  Within it are complete reviews of both versions of Mario and Sonic at the Olympic Winter Games.
We can pass along a few pertinent details on them, including the scores.  Reports indicate the Wii edition of M&S received a 90% score.  That's quite high, until you consider its DS counterpart achieved a 91% score.  Indications show that the ONM review team preferred the DS's Adventure mode over the Wii's Festival mode.
We can also pass along a couple other noteworthy tidbits, including the final tally of 11 dream events in the Wii version, some of which have to be purchased via the in-game currency you earn as you progress.  The other 16 games are based on the actual Olympic Games.  There are additional characters, but they are not playable.  Reports indicate that Rouge and Jet are in as bosses in the Festival mode, as are Dry Bowser and Boo.
There is a touch more fan service in the character skins you can purchase for your Mii as well.  In addition to Big the Cat, Super Sonic is available, as is Charmy the Bee.  On the Mario side, Dry Bones and Fire Mario costumes were mentioned in the ONM review.
We'll continue to bring you the overall review picture for Mario and Sonic at the Olympic Winter Games, but so far, so good.