Sonic CD Cutscenes Now Available in HD
by Tristan Oliver
September 25, 2009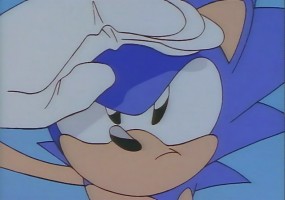 Download some Up-converted Classic Sonic Goodness
From our friends at FastFeet Media today comes word that those animated FMV sequences from Sonic CD have been up-converted to High Definition for your viewing pleasure.
In total, six editions, spanning the game's open and close across all regions, including the Sonic Jam edit, are now available on FFM.  Before you choose to download, an area is available for you to stream the content.
Says FFM's Graham Seward on it:
Thanks to TheBuilder from soniconthenet.org who actually compiled together a special Sonic CD DVD (worth checking out), we took that and made it into HD (High Defintion) and thanks to our encoding technology these have to be the highest quality versions of the Sonic CD Opening and Ending videos, including some footage you may not have seen! 6 Videos below 3 Opening videos and 3 ending videos.
TSSZ News had reported on the aforementioned DVD back in April.