Video of the M&S Winter Olympics Leak
by Tristan Oliver
October 8, 2009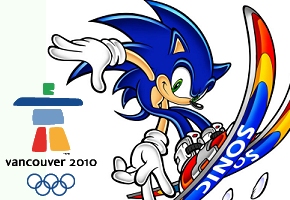 The Proof of a Major Leak Inside
It's legit.
Scores of ISO copies from Mario and Sonic at the Olympic Winter Games for the Wii are popping up on less reputable torrent sites.  TSSZ News confirmed yesterday the existence of one working link.
We won't directly link to the download, but we will show you proof that yet another major title has slipped through Sega's cracks and out into the public realm earlier than hoped.
You may have seen the video below by now.  It's an eight and a half minute off-camera video of M&S in action, in Spanish.  The same video has intermittently popped up throughout YouTube, but in all likelihood will be gone at Sega's wishes by the end of the day.
We thought about that.  With thanks to TSSZ News reader Indigo Rush, we've obtained a tangible copy of the video.  It is no different than some of the other ones you may have seen: It includes the game's opening FMV, menu options, and a game of curling framed in a larger competition called Panel Flip.
The video is hosted on our servers, and we would like to share it with you, below.  The usual disclaimer applies…see it while you can.  We'll continue to follow the fallout from this leak in the coming days.  Clearly, this is not something Sega nor Nintendo wanted.