Best of Crush 40 Album Release Date Pegged
by Tristan Oliver
October 9, 2009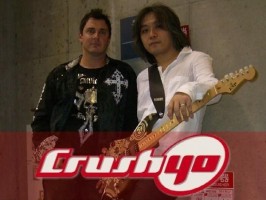 2nd in Series of Senoue Works Out in November
Today, Crush 40 announced via the group's Facebook page that The Best of Crush 40: Super Sonic Songs will be out November 18th.
For group lead Jun Senoue, it's the second of three expected albums by him to see a release soon.  For fans, it's news of relief, after reports indicated the album wouldn't be out to coincide with the timing of Jun Senoue: The Works.  That album will be out in about a week and a half, on October 21st.
We don't have a tracklist nailed confirmed yet, but we'll pass it along when that comes.  You can pre-order The Best of Crush 40 now via our sales affiliate CDJapan.  Thanks go out again to Jack Wallace of Sonic Paradise–who has been very helpful in the news cycle this week–for sending this in via our News Tips system.