IGN Gives M&S Winter Olympics a 6.5
by Tristan Oliver
October 15, 2009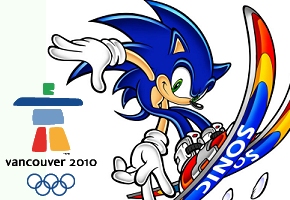 "Doesn't live up to the previous Olympics offering"
More and more press outlets have picked up Mario and Sonic at the Olympic Winter Games for review, and leading the pack in an increasingly mediocre taste is–who else?–IGN.
The Wii version went under a bit of scrutiny, and came out with a 6.5 out of 10–"passable" on their scale.  That's just below the current Metacritic average of 73, below Nintendo Power's score of 7, and well below a couple glowing reviews from ONM and Eurogamer.
Wii reviewer Mark Bozon says the product overall "isn't a bad choice," and cited the game's Curling mode as his personal favorite out of the bunch.  However, Bozon noted the motion control scheme needed work, and labeled M&S as overall lacking polish.  Bozon even directly blasted Sega's work, in comparison to some first-party Nintendo titles:
Without going into huge brand war issues here, it's obvious this is a mini-game set developed by SEGA, and not something Nintendo-made like Wii Sports, Wii Fit, or the Big N's own Strikers/Baseball/Golf franchises. It just doesn't have that final level of polish you'd expect.
This, from the same organization who openly mocked the Sonic fanbase upon giving Sonic and the Black Knight a poor score.
But unlike in SBK or even Sonic Unleashed, IGN is, at this moment, almost totally isolated in their professional perception.  Metacritic's current rundown of reviews only notes two other organizations with under-70 reviews: the website Teletext GameCentral, and IGN's Australian division.  Why then, is there such a relatively low average?  The reviews at or near 70 and 80 are quite stacked.
You can review the review below in our comments section.  Thanks to Kadeb for sending this in via our News Tips system.