What Sonic Could have Looked like on the 32X
by Tristan Oliver
October 21, 2009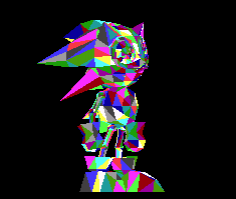 This, From an Era Long Forgotten
The picture you see here is Sonic…in polygon form.  It may not be familiar to you because it's from a console he never officially showed up on…the Sega 32X.
First discovered by Sonic Retro's Vangar, the model hails from a "Mars" sample ROM.  Originally, Sega of America's codename for the Genesis/Mega Drive add-on was–you guessed it–Project Mars.
There are plenty of polygons in this model, and some have speculated there could be even more than in later Sonic models from the mid 90s.  Still, keep in mind that though the 32X's short lifespan only bore Knuckles Chaotix, there had been a Sonic concept produced for the console, dubbed Sonic Mars.  It later turned into the ill-fated Sonic X-Treme, though, and it looked nothing like the photo above.  If nothing else, it's a pretty nice tech demo.