New Information on Crush 40's Super Sonic Songs CD
by Tristan Oliver
October 22, 2009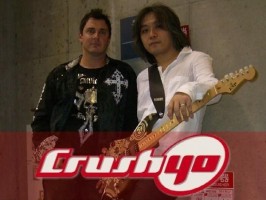 What "Fire Woman" Is Inside
It looks like Jun Senoue and Crush 40 isn't beyond cover songs, as they'll be doing one for the upcoming Super Sonic Songs album, due out later this year.
Indeed, Fire Woman is a cover, according to the artist via JunSenoue.com.  It is based off of the 1989 song of the same name, recorded by The Cult as part of the Sonic Temple album.
But that's not all.  Senoue also reveals that Knight of the Wind from SBK will get a tweak, and he confirms that Is it You will be all new:
I re-recorded rhythm guitars on "Knight Of The Wind" since I didn't like the ones on its long version.

I also wanted to replace my guitar on "Live Life" but I didn't have enough time to track & mix that song in the studio.

"Fire Woman" is a cover song. Original one was performed by The Cult and it appeared on the album called "Sonic Temple".

"Is It You" is a brand new song, we did this song last month, Sep.2009.
Thanks to Superfield for sending the news tip in.  If you have news to share, be sure to share it with us by clicking "News Tips" at the top of every page.