Lock-On Coming for S&K Wii Release
by Tristan Oliver
October 23, 2009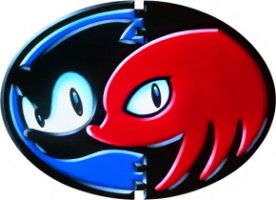 Out in Japan Virtual Console Soon, When Will it Come West?
Sega of Japan has confirmed through the point page for the upcoming Virtual Console release of Sonic & Knuckles that, in Japan at least, the game will include lock-on support for previous Sonic titles.
That means Nintendo Wii users will be able to enjoy the same support fellow XBOX 360 fans have had since late Summer.  Owning S&K with a previous Sonic title on the system will yield special results–the Blue Spheres battery for a lock-on with Sonic 1, Knuckles in Sonic 2 with Sonic 2, and the full Sonic 3 & Knuckles when you have Sonic 3.
Sonic & Knuckles will be out for the Wii virtual console next Tuesday, October 27th.  But when it will come west is not clear.  Some fans have been waiting patiently for the Wii edition of S&K ever since an ESRB rating of it surfaced over a year and a half ago.  But now that Sega's figured out the technology, Wii users should finally be able to enjoy the full experience S&K brings.  We will pass along a domestic release date when we get word–it shouldn't be long now.  Thanks to AugieD for sending this in via our News Tips system.