New Video: Mecha Madness's Revamped Combat Engine
by Tristan Oliver
October 28, 2009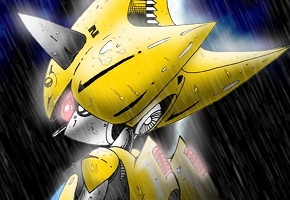 Post SAGE Dormancy Yields Plenty of Promise
Off the heels of a complete restart, Streak Thunderstorm unleashed new video for Sonic the Hedgehog: Mecha Madness yesterday.
The video shows off the combat engine behind the game.  You may remember the sudden shift to this system after Streak had to start from scratch earlier this year.  So, with the usual platforming comes some more traditional 2D fighting–and a re-colored sprite.
Showing off a small portion of Angel Island Act 1, the game so far looks visually stunning, and seems to keep up pace as you tackle scores of enemies and rack up killer combos.  There's no word on when we'll see a new demo, but the video is sure to please anxious SFGers.  It's good to see Mecha Madness back on track.
Take a look for yourself below.