Personalized Copies of "The Works" Now on Sale
by Tristan Oliver
October 28, 2009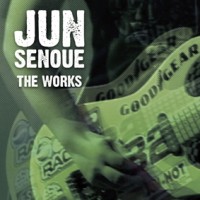 Not a Bad Price, Either
In via a News Tip from TSSZ News reader Superfield, we've learned that those personalized (read: autographed) copies of Jun Senoue's The Works are now available for purchase, about a week after the CD's proper release.
The offer is being made through JunSenoue.com, and you will need a Paypal account to take advantage of the offer.  Senoue himself will autograph the copies you order through the site, and you can also get something a little extra–he'll write your name on the cover.  The option is also available to hold off on shipping until the release of Super Sonic Songs from Crush 40–that is, assuming you'll purchase that as well.
It looks to be about $30 for the base CD, and shipping will range anywhere from $5 for a single copy, to $16.50 for 4 copies.  For most, that means you can get Senoue's signature on The Works for under $40.  Not bad.  But remember, you need a Paypal account to do this.  Further, CDs can't be shipped to or within Japan.
We thank Superfield for letting us know of the news tip.  If you have something to share, please do so by clicking News Tips at the top of every page.