Sonic Whirlwind Cancelled
by Tristan Oliver
November 12, 2009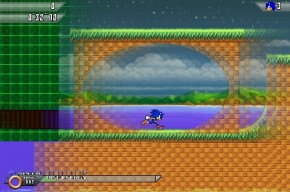 Another SFG Bites the Dust Amid Charges of Stealing
It had promise when it showed up at this year's Sonic Amateur Games Expo.  It began to show polish when just this week we posted new video of the Sonic fan game.  But developer segasonicfan4life suddenly put the project on its deathbed Tuesday, joining a long line of SFGs that never hit the big time.
No reason was given in the one sentence announcement made on the Sonic Fan Games HQ.  It was a complete 180 on the news segasonicfan4life posted in response to our story, that noted a new Whirlwind demo was in the works for release as early as next week.
But a few have come out of the woodwork to accuse the developer of stealing sprites from other SFGs, and getting caught.  Though it cannot yet be confirmed, but Sonic the Hedgehog: Mecha Madness is pointed out as a specific example.