New Video: Prope Announces Ivy the Kiwi? for Mobiles
by Tristan Oliver
November 13, 2009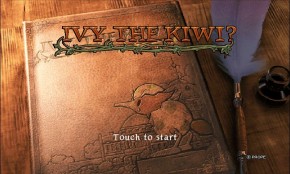 Touch Enabled, but its Platform will be Different
From the department of left of field comes word today that Prope, the development house run by Yuji Naka, will be bringing a new character and a new challenge to mobile phones next month.
Ivy the Kiwi? (the question mark is intentional) is looking for her mother through 50 challenging stages.  The character by default moves forward, and players have to draw ivy lines with a stylus to help her navigate.  The vines can be used to avoid obstacles, or propel the character through breakable blocks.
The game seems like a perfect fit for the iPhone, and the Let's Tap line of minigames had previously been released on the platform.  Ivy the Kiwi?, however, is for the moment exclusive to Windows Phone enabled platforms.  This could be the result of that Sonic-esque character Prope was to be working on for a while now…or it could be a new way to have some fun and have Windows Phone be a viable mobile gaming platform.  Take a look at the video below of the game in action, and decide for yourself.  Thanks to Danielle for sending this in to our News Tips system.