"Sonic Classic Collection" rated by BBFC
by Ryan Bloom
November 14, 2009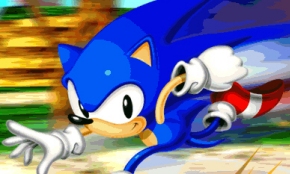 Yet another retro Sonic game compilation surfaces
Retro game compilations are Sega's bread and butter, these days. It began with Sonic Compilation on the Sega Genesis, Sonic Jam (pictured to your left) on the Sega Saturn, Jam Pak for the PC and Dreamcast, Sonic Mega Collection, Sonic Mega Collection+, Sonic Gems Collection, Sonic's Ultimate Genesis Collection, nevermind the individual re-releases on the Gameboy Advance, iPhone, Virtual Console, Xbox Live arcade, and Playstation Network. If, for some reason, you don't already own the classic Sonic games, get ready for another chance – the British Board of Film Classification (BBFC) has given a rating to something called "Sonic Classic Collection".
Back in September, we reported on a leaked Sega memo referencing the potential existence of a new Sonic collection, purported to be exclusive to the Playstation 3 – a "Best of Sonic", containing "all of the old Sonic games" on a single Blu-ray for the steep asking price of nearly $100. It is unclear if this is the collection they were referencing to, but considering the BBFC conveniently lists everything present in this collection, putting all of this on to a Blu-ray disc seems like a waste of space:
n/a SONIC CLASSIC COLLECTION
n/a SONIC THE HEDGEHOG (GAME)
n/a SONIC THE HEDGEHOG 2 (GAME)
n/a SONIC THE HEDGEHOG 3 (GAME)
n/a SONIC & KNUCKLES (GAME)
n/a KNUCKLES IN SONIC THE HEDGEHOG 2 (GAME)
n/a KNUCKLES IN SONIC THE HEDGEHOG 3 (GAME)
00:00:45:00 SONIC CHRONICLES – THE DARK BROTHERHOOD (VIDEO)
00:03:05:00 THE HISTORY OF SONIC (VIDEO)
n/a SONIC ART (IMAGE GALLERY)
00:05:15:00 SONIC CLASSIC COLLECTION CREDITS
n/a GAMEPLAY FOOTAGE
In my own, personal opinion, given the low-game count and the presence of a trailer for Sonic Chronicles (but no trailers for any other individual games), I would not be surprised to see this instead announced for the Nintendo DS – a portable Sonic collection would make a whole lot more sense than re-re-releasing the classic Sonic games on a console yet again.
We'll probably get an official announcement within the coming week – stay tuned.