Full Tracklist for True Colors Revealed
by Tristan Oliver
November 17, 2009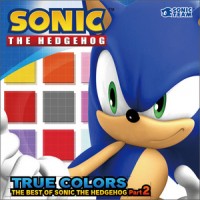 Classic Sonic Gets a Bit of Love
The Japanese Sonic Channel blog today revealed the full track list for December's release of True Colors: The Best of Sonic the Hedgehog vol. 2.  It's the next in a series of Sonic themed compilations from Sega.
Recent Sonic is well represented and remixed, with a couple cuts of Dreams of an Absolution making it, as does All Hail Shadow and a new remix of Open Your Heart.  Noteworthy is how the ending theme to the international edition of Sonic CD, Believe in Yourself, has a place.  Very surprising, however, is representation of Sonic 3 and the original Sonic ANIME.  It's not Sonic X–we're talking about the original OVA released in 1996, with an American release in 1999 by ADV Films.  An edit of "Look-a-like" is a part of the album.  Also making the cut is something called "Sonic3 MegaD Mix," which had previously been released through the Sonic Gems Collection.
The full track list is below.
1. Un-gravitify
2. Dreams Of An Absolution
3. Throw It All Away
4. E.G.G.M.A.N.
5. Waking Up Performed by Julien-K
6. This Machine Performed by Julien-K
7. Fly In The Freedom
8. My Sweet Passion
9. Believe In Myself (SA2 Version)
10. Unknown From M.E. (SA2 Version)
11. Theme of E-102γ
12. Cosmic Eternity – Believe in Yourself
– Bonus Tracks –
13. Look-a-like (Short Edited ver.)
14. Sonic3 MegaD Mix
15. Lazy Days -Livin' in Paradise- (Original Demo – Mixed with Ted Poley)
16. All Hail Shadow (Hybrid Mix feat. Mike Szuter)
17. Dreams Of An Absolution (Starry Night Remix)
18. Open Your Heart (K-Klub Remix)