First Look at Jazwares Amy Figurine
by Tristan Oliver
November 18, 2009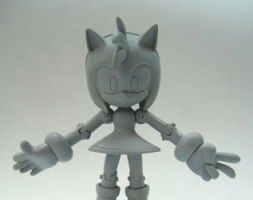 Many More Planned, Details Inside
We want to let you know that some of the first concept shots of Jazwares's upcoming Amy figurine have been making the Internet rounds.  We have a complete shot for your review below.
It's in development, but there's no word on when you'll see it in stores.  But with the picture comes some new information on several other Sonic figurines to be developed by Jazwares.  Among them are editions of Big the Cat and Eggman.  A 3 inch figure has been quoted as the height for these particular releases.
While you wait for that, we also have word that packaging has begun on the Silver, Shadow, and Werehog edition figurines, so those should be appearing in stores soon.  There's also buzz that Jazwares will begin production on a new Super Poser figure of Knuckles.  For those unaware, those are the 6 inch figures that you can pretty much pose to your heart's content.
We'll keep tabs on these developments and update as needed.  In the meantime, here's the draft Amy mold for your review.