Sonic Spinball Spotted for Mobile Phones
by Tristan Oliver
November 25, 2009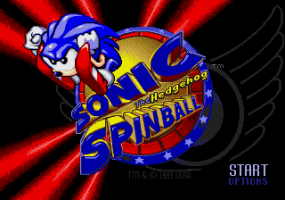 It's Who's Publishing that's Surprising

Spotted today in the Sonic Retro forums was something a bit overlooked, particularly for the British crowd.  It appears a mobile edition of Sonic Spinball has surfaced for sale.
The item can be grabbed for £5, and the game appears faithful to the original Genesis title, compatible with a wide variety of phones.  But it's who may be pushing it out for sale that could have your head scratching.  Clearly noted at the top of the sale page is the site "Last Level"–which is a subsidiary of EA Mobile Games.  Yes, Electronic Arts has somehow nabbed the rights to a Sonic title.
This has seemingly come out of the blue, without any advance notice by Sega, EA, or anyone in between.  It's especially strange given that Sega has published some of their games themselves on platforms such as the Apple iPhone and iPod Touch, and has plans to do so for the next few years.
For the moment, it may be best not to read too much into it, and at the very least, it's good news for Sonic fans who have a few bucks to spend, and want to bring another Sonic title with them on the go.