On EBay, Get Your Sonic X-Treme…T-Shirt
by Tristan Oliver
December 9, 2009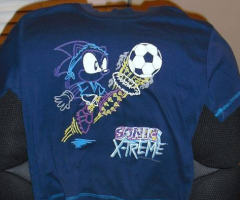 Seller Says Original, From Australia
With Sonic X-Treme in the news a lot this week, it's worthy to wonder how Sega would have promoted the title.  It was meant to be Sonic's signature Saturn title, and before the plug was pulled, it looked like Sega had some materials ready to unleash on the masses.
Perhaps the most glaring example right now is a T-shirt now available on EBay for $24.99.  It is a strange mix–with the X-Treme logo juxtaposed with Sonic kicking a soccer ball–but the seller insists it's original.  The claim is that it's from Australia, circa 1997.  It's in a child size 7, somewhat used, and it can be yours–as of this publication–for $24.99.
Whether you're a collector or have a younger sibling that you want to convert over to Team Blue, if you want this, you better hurry.  Bidding will close in just under two days.