Hoaxbusters Update: DC 2 Prototype Labeled Fake on YouTube
by Tristan Oliver
December 9, 2009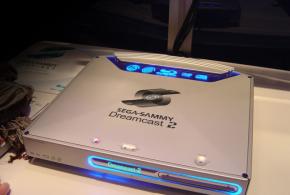 One Rough Lead, Leads to Disappointment
10:30PM ET UPDATE: With the help and research of our friend Jack Wallace and Sonic Paradise, we have one single lead into the origins of the image you see here.  Unfortunately, it leads right to a dead end.
It's a very strange lead right to the YouTube account "makeDREAMCASTtwo," and a short, creepy video dated from late September of this year.  The video is a compilation of images–including two somewhat fuzzier editions of what you see here–but it makes one thing clear.  Without citing where the images came from, the video labels the purported prototype as a fake.
"I used a fake console image to get your attention," says the in-video citation–again, not citing where it's from.  "I am sorry."
The citation also urges video viewers to look up information on Sega's RingEdge, which is bulkier than the image seen here.
If it's fake, it doesn't quite explain why there appear to be two differently lit editions of the same image in the video, aside from a Levels edit in Photoshop.  It also doesn't explain the IGN watermark on one, and the lack of one on the other.
You may remember that ex-Sega head Simon Jeffery dismissed the notion of Sega re-entering the hardware business in 2008.  Jeffery has since left the company.  In fact, he did so three months before the video cited above was produced.  Again, as far as anyone can tell, the image can't yet be dated past a few months old.  Hm.
It is strange, but for the moment, it's only real lead we have in relation to the story.  So, the bottom line unless we get anything new…while there may remain faint hope that truth exists somewhere in the image (in that something exists, at least,) don't hold your breath for Dreamcast's second coming.  It would be very nice to know where this image originated, though.
Our original story follows below.
—–
If it weren't for the fact that we can't immediately verify where or how this picture surfaced, this would almost certainly be a Hoaxbuster.  But because a lot of it's up in the air, we are left with a very blatant Rumor Alert–and fleeting thoughts as to whether Sega is about to reverse its software only stance.
The photo above has "Dreamcast 2" clearly marked.  It purports to be from Sega Sammy holdings, taken at an unknown time.  It alleges to boast Blu-Ray capability and that classic Dreamcast swirl in a couple spots, but beyond that, you can't deduce much out of it.  There are a few bullet points below the image that note the photo shows a design prototype, and that this may have surfaced in some way earlier this year.
The photo was posted on a Brazilian website, and sent into us by Brazilian Hedgehog, one of our international readers.  We showed this photo to one of our Hoaxbusters in the Sonic research community, who could not immediately identify the origin of the photo–at least to the point where it could automatically be labeled a hoax.  Furthermore, that Hoaxbuster showed the discussion to a native speaker, but the discussion that ensues in Portuguese also does nothing to indicate a hoax.
But there are some things that hurt any credibility.  Not shown in the photo above is a watermark for IGN.com.  A simple search on IGN revealed no trace of the above image on the website.  Further, the image on the linked thread was not originally hosted on IGN, but on Imageshack.  We did get some rumblings that this may be some modification on a Playstation 3, but that too is only speculation.
Then there's this: aside from possible brand recognition from veteran gamers (the Dreamcast WAS a big seller pre-PS2 domestically, after all), why choose the name Dreamcast 2? Sega, of course, has long denied an interest in returning to the hardware market, but given that the company has suffered loss after loss each quarter for a while now, one has to wonder if a revival hasn't crossed the minds of a few Sega Sammy suits.
With your help, this story may or may not morph into a Hoaxbuster.  If it doesn't, prepare for a Sega fan renaissance.  Can you help us identify some telling signs one way or the other?  Be sure to leave a comment or send us a news tip–and most important, be sure to treat this as rumor.  The full image–with watermark–is below.