Announcing the TSSZ News / Sonic Retro Holiday Inflammatory Ban Hammer for Hope
by Tristan Oliver
December 11, 2009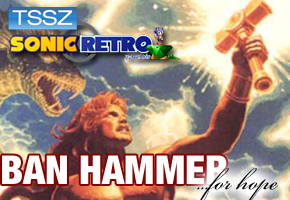 Sick of Tristan?  Put it Toward a Good Cause

Sick that your every word hangs in the balance on some Sonic news site? Tired of being called racist just because you railed on some non-English speaker at the forum you run? Angered that you were caught engaging in some ludicrous social experiment? Upset that everything you ever knew about Rotor has been destroyed? Annoyed that pesky things like "facts" and "journalism" are hampering your enjoyment of the Sonic community? Cringe every time you see a "Request for Comment" in your E-Mail? Confused at how "freedom of speech" doesn't always apply to your comment rage?
Want to do something about it? It's time to put your money where your mouth is.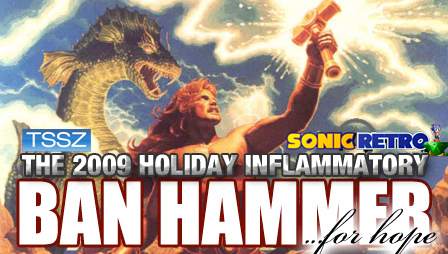 How's this for a social experiment? TSSZ News is forging a Holiday partnership with Sonic Retro to dish some payback to everyone's favorite Sonic news journalist…that would be me, Tristan. I have an Oldbie account in good standing at the Sonic Retro forums…but not for long. To change this, all you have to do is donate money from now until December 23rd. The more money donated, the longer I'll be under the ban hammer. That's because for every $75 donated, I will be banned from participating in the forums for one day. We're not kidding. This is real.
Every dollar donated goes to Child's Play, the gaming charity brain child of Penny Arcade that brings a brighter Holiday to sick children in hospitals around the world. The money goes directly to their account–there is no middleman, though we can track how much is donated via the magic of ChipIn. You can too–the widgets seen here will be updated as more money comes in.
So, your donation not only helps get rid of that red-headed bastard for a while, it also helps children in need. It's a win-win for everybody…except for this reporter. The ban will take place from January 1 to…well, whenever. Will it be 10 days? 20? 50? More? It's all up to you. The official results will be announced on Christmas Eve–December 24th.
So, channel your rage, open your wallets, and help make children's Holidays brighter all across this big blue world. Every dollar brings Sonic Retro closer to a classy, JOURNALISM free environment. Plus, you'll show just how classy and upstanding the whole Sonic community can be. Donate today!…or I'll find you, and write a hard-hitting, investigative, in-depth article about it….First @ TSSZ.
You can use the ChipIn widget below (and at the side of every page on TSSZ News) to donate. You can use a Paypal account, but it's not necessary. A major credit or debit card will do just fine–there is a link on the ensuing page to use that option, without signing up for PayPal. If you want to share this, ChipIn has many options to do so–check them all out below. Encourage your friends and your family–they'll not only feel good knowing they've helped Child's Play, but because they've felt the power. Of the ban hammer. On Tristan's face.