Chris Senn Responds to X-Treme Leak
by Tristan Oliver
December 14, 2009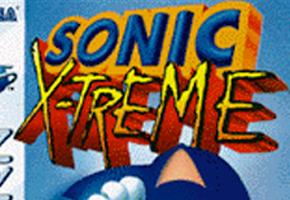 "I Did Not Authorize This Leak"
Since the release of numerous Sonic X-Treme materials to the Sonic research community–materials that may not have been authorized for public release–many wondered how Chris Senn, a former designer with the ill-fated project and current administrator of Senntient and the SXC, would respond.
This afternoon, we got that response.
While Senn assured the release was not authorized, and assured he doesn't know how the materials leaked, he did note that it made no difference to him who was taking credit for it.  This, according to a post on the Senntient forums over the weekend.
What follows is an open letter of sorts to the community concerning the leak, penned by Senn:
To the community:

I logged on a few hours ago to find out about the PC leak.  Getting through one page of posts only, here are my thoughts:

– I did not authorize this leak nor did I know there was going to be a leak of any kind until today.  At the moment, I can't even remember exactly how these materials got started and what the story was… but I will in time.  Will share later.

– Any materials that were leaked that I had in my possession were not kept to hurt the community, but out of respect for one or more other team members' wishes.

– As to who leaked it, it doesn't really matter.  Anyone who would take credit for "taking a leak" – especially if asked not to has got his or her own issues to deal with.  Good luck with those.

– Thanks to those who have respected the Xtreme team member's wishes and stuck up for those, despite pressure to do anything to the contrary.

– One of the main reasons I have kept my forums open has been to try and teach respect and tolerance.  The motivation(s) behind this leak and the leak itself relate directly to the issue of respect.  Whether or not you love some or all or none of what has been shared over the years is one thing – but above all else, learn how to respect yourself and others.  This skill is life long and always useful.  A blue hedgehog on the other hand…

– Whatever I type, someone somewhere will take it the wrong way – either my intention to write this, or something I've written – or not written here.  If this is you, please lighten up.

– I'm very busy, and as some may have noticed, I barely spend time on my own forums as a result.  Between my family and career, I have extremely little free time.  And right now, I don't have time or energy to deal more with this situation.  Hope this helped anyone interested…

…and Happy Holidays to everyone… be safe, happy, healthy… and respect each other!
We thank SonikkuForever for sending this information in to our News Tips system.  If you have a story to share, be sure to tell us by clicking "News Tips" at the top of every page.