New Video: Sonic Olympics Coming to iPhone/iPod Touch
by Tristan Oliver
December 19, 2009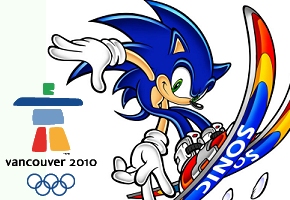 Watch Eggman on a Snowboard Inside
This is seemingly out of the blue–on the heels of the continued success of Mario and Sonic at the Olympic Winter Games for the Wii and DS, Sega will be branching out on its own for a mobile offering.
In the video you see below–courtesy of TouchArcade.com–two events are demonstrated, Curling and Snowboard cross.  It appears you'll be pitted against 3 opponents in each one.  The Sega published title, currently dubbed Sonic at the Olympic Games, will have four olympic events, and what looks to be 10 Sonic characters, including Sonic, Amy, Metal Sonic, Blaze, Shadow, Eggman, and Vector.  No representation from the Mushroom Kingdom here.
We don't have a release date or price yet–other than it will be seen early next year and will likely be timed to coincide with the actual Winter Olympics in Vancouver.  Sorry, non-Apple users–this appears to be an iPhone and iPod Touch only affair.  Check out the more than 4 minute video–including Eggman trying to rock that snowboard–below.  Thanks to Fairfieldfencer for sending the information in.  If you have Sonic news to share, be sure to share it with TSSZ by clicking "News Tips" at the top of every page.