On EBay, Bendable Silver Toy Goes for Pretty Penny
by Tristan Oliver
December 30, 2009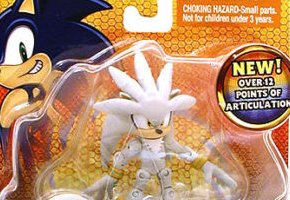 This, as Cheaper Options Now Available
In one of the more legitimate Sonic related EBay auctions of note recently, news tipster Edwin Shy sent us a link to a completed sale of the toy you see here–the new 3 inch bendable Silver figure from Jazwares.
It went for $610.  Really.
The auction was finished early in December, and you could perhaps blame a Holiday run up for such a high price.  Typically, the figures sell in the $10-$20 range, and indeed, if you're interested, there are several auctions that reflect such a range.  It's also possible to find it at your local toy shop or Toys R Us–something that may not have been the case when the $610 Silver figure went on the block.
This is the newest in the Jazwares Sonic series, and it ends a long Silver drought.  The figures have 12 joints on which to bend, twist, and pose.
Do you think $600+ is too much for such a toy, in any circumstance?  Tell us in the comments section.