Crush 40 Rock Band Deal Falls Through?
by Tristan Oliver
January 7, 2010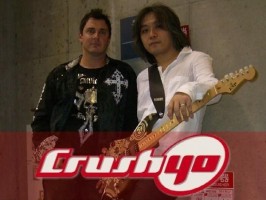 Not Even the Liaison Label Knows What's Up
We want to give you an important and long overdue update to a story we brought you in November, brought to our attention recently by TSSZ News reader Setnaro X.  It's not good news; while hopes remain high if not slim, it appears a major snag has been hit in the effort to bring some of Crush 40's songs to the Rock Band Network.  There are now serious doubts as to whether it will ever come to fruition.
Four songs from the Crush 40 catalog were planned. Shortly after we published the original story, four became three, and may have become none.  That's according to various accounts at the Jun Senoue forums.  All systems appeared to be set for Crush 40's RBN addition, when a third party–allegedly responsible for the U.S. distribution rights to Sega's tunes–intervened.
It's even puzzled the label set to release the tunes for Rock Band.  That's Philadelphia based Ozone Records, run by Owen Douglass.  According to a later account, he's been completely left out of the loop, with the last word he received claiming it can't happen right now:
Well, I have absolutely no clue what's going on right now. Is Jun talking with SEGA right now to allow my company to work in collaboration with the US label that has SEGA's music distribution rights? Did they just say forget it and drop the whole thing?

I have yet to hear anything from Jun or anyone at SEGA yet regarding this. In my last email, the key words are "can't move forward with this kind of thing at this moment" and "I will keep you posted".
It appears that intervention was required by Sega or Jun Senoue himself to get the project back on track, and an update would be provided once given.  That was in December–there hasn't been much of a peep since.
If it holds, it shuts out a big opportunity for Senoue and his band to be exposed to a completely new audience.  It's also a big bummer for Sonic fans who were excited to see one of Sega's star musicians break out beyond the blue hedgehog.
If we get further word on the matter, we will let you know.