How Secret is Needlemouse? Not even the Trailer Dev Saw It
by Tristan Oliver
January 8, 2010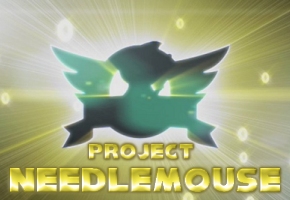 But What Does "Without a Character" Mean?

If you thought you were in the dark on the upcoming Project Needlemouse, imagine how clueless the firm who produced the original trailer felt.
The San Francisco based Integrated Alchemy Media, an online marketing boutique who specializes in "disruptive" video, did not see a second of the next Sonic.  That's according to their boisterous Vimeo relay of the trailer.  They had a week to put together something out of nothing, and it worked–within 2 days, their trailer was viewed by at least 100,000 people in their estimation.
But there may be some holes in their PR push–some very big holes.  It appears Project Needlemouse is a tentative title.  At the time of the spot's production, there was no title, no logo, and…well, we'll let the bold portion speak for itself:
SEGA came to Integrated Alchemy Media without a game, without a title, without a logo, without a character, and with a challenge: Make fans of Sonic the Hedgehog excited about his return in the game you're not going to show. We had one week. But we also had Trevor Gavin, Ryan Berkey and Vadan Less This 30 second teaser got 100,000 views in its first 48 hours and the mission was a total success.
–What's this "without a character" business?  Could the next major Sonic game have been so early in development that, as of September, it wasn't determined whether Sonic, as we know him, would be the lead? That would certainly put a chink in the armor of many fans' opinions thus far, who think this could be Sonic's return to 2D glory.
But because this all but affirms the trailer was made from nothing–and perhaps as part of a shotgun announcement based on bark more than bite–and we still have nothing, it's tough to pin down what more to take from this, other than Project Needlemouse will likely not be the final title, and Alchemy Media accomplished its goal quite successfully.
What do you think?  Do you think Sega would even consider nixing Sonic in a lead role for such a well-hyped project?  And what of this "without a game" talk?  Tell us in the comments section.
We give great thanks to ShadiWulf for sending this in to our News Tips system.  If you have news to share, be sure to share it by clicking News Tips at the top of every page.