Potential Cast of Needlemouse Characters Revealed Through Contest
by Tristan Oliver
January 11, 2010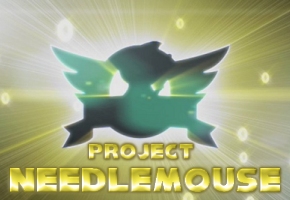 Yes, "Characters," the Plural–Will it End Up That Way?
A dummy list of eleven possible playable characters for the upcoming Project Needlemouse have been revealed just minutes ago on Sega of America's blog.  There are eleven now, but not all of them, and perhaps not all but one are making the cut–that's where the contest part comes in.
The list includes Sonic as playable, but it also includes Shadow, Amy, Vector, Shadow, Charmy, Shade, Chip, and those who can probably be thrown out right out of the gates, like Big the Cat and "Sonic's new friend Mr. Needlemouse."  Tails and Knuckles are not on the list.
Each day, Sega will cross one name off that list, but you'll  have to answer some trivia questions to get more done.
There are incentives for doing it, so says Sega's post:
1: The Details: Each name on the picture above is a potential playable character in Project Needlemouse. However, not all of them are going to make the cut – and each day this week until Friday, we're going to update this picture with a rejected stamp over those who will not actually be showing up!

2: The Challenge: Answer our trivia questions about oldschool Sonic games! (Genesis era) We'll post trivia questions each day on a specific part of our SEGA/Sonic sites, and you all have to work together to figure out the right answers and post them there! Each day we'll challenge you guys to get a certain number of people to post the correct answers – and if you meet that challenge, we'll remove more names from the picture in a new blog the following day!

*About Bonus Points: If you go above and beyond the expected results, the community will earn a bonus point for that day. Earn at least three bonus points and we'll give you all something special  this Friday!

3: The Schedule:

Monday: SEGA Blogs
Tuesday: SEGA/Sonic Facebook
Wednesday: Official Sonic Forum
Thursday: SEGA Twitter
Three questions are available to answer right now. The more people participate, the more of a chance we'll actually get to see that bonus.
We should note that the details right now lean toward revealing the plural, as in "characters," and not a single character.  It would seem a lock that Sonic would be in Project Needlemouse, and the timing, pace, and incentives for the contest seem to indicate there could be opportunities for up to 2 names to be thrown out a day…leaving perhaps a cast of three characters, including Sonic, by Friday.  If that bonus point incentive is to narrow it down even further, then expect a single character to be playable in Needlemouse, and more than likely it'll be Sonic.  However, we're betting that bonus will be a first look at the game–if only a tiny one–or new details.  The bottom line: Expect a playable cast of 1-3 characters in Project Needlemouse, but if it's more than one, Tails and Knuckles appear shut out.
Also as a part of the post, Sega indirectly acknowledges it's been a bit coy in dishing details, and that fans have been clamoring for new information amid a ton of speculation:
In the months since we announced a special little game code named Project Needlemouse, you guys have bombarded us with great interest and questions about what the game might be, who that figure in the silhouette really is, and when we were going to start releasing more info about the game.
Hm.  We have no idea how they came up with that idea so soon.
Stay with TSSZ News for more information on Project Needlemouse.  We will update daily as the new details come in, and as this social media scavenger hunt pans out.  It appears we will finally have some appreciable information by Friday.