UPDATE: Sonic Adventure Re-Release on XBOX Live
by Tristan Oliver
January 11, 2010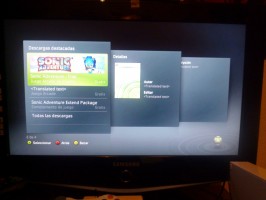 Original Source Removes Story…at Sega's Request

UPDATE: SegaOnline, the original source of our story, has removed their post concerning Sonic Adventure on XBOX Live.  "This message has been deleted on request of SEGA Europe," the story now reads.
It's a good thing, then, that we have the new photo you see up here, and below–it is corroborating evidence, courtesy of NeoGAF, of Sonic Adventure's pending existence on XBOX Live.  It is principally in Spanish, but the most of the same information remains: Sonic Adventure will exist on XBOX Live shortly, and there will be an "Extend Package," which some have speculated could be either the downloads available from the Dreamcast edition, or elements to put together what would be Sonic Adventure DX.  That, pared with Sega of Europe's request, now almost certainly takes this out of rumor territory.
Our original story follows below.
—–
The Dutch Sega site SegaOnline is citing an anonymous source–with some screenshots–to affirm that Sonic Adventure, the hedgehog's first proper foray into 3D, is set for a release to XBOX Live sometime this year.  It does not appear for the moment that Sony's Playstation Network will be afforded the same treatment.
In August, we told you about Australia's Office of Film and Literature re-rating Sonic Adventure DX, but there was no specification on what console it would appear.  It now seems that two and two have been put together, but there may even more of an addition to the game.
SegaOnline's complementing screenshots with their report indicate there will be three editions of Sonic Adventure available on XBOX Live: a free trial, the actual game for purchase, and something called "Sonic Adventure Extend Package."  There's no indication in the report what this could be.  Is this the newest way to say Sonic Adventure DX, or could the game be getting a simple update for HD…or is it something more?
We will keep you updated on anything new we hear with this.