Sega Removes Akira / Jacky Listing from ASR Website
by Tristan Oliver
January 14, 2010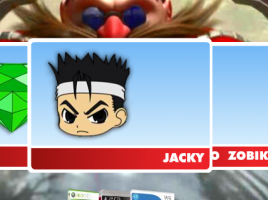 Too Little, Too Late
After we first pointed it out Tuesday, that sketch of Akira Yuki from Virtua Fighter–with type revealing another VF presence, Jacky Bryant–have both been purged from the official ASR website as of Wednesday.
Nowhere in that list of All-Star Moves can you now see mention of either character.  But it doesn't matter: TSSZ News was first to independently and irrefutably confirm the presence of both Akira and Jacky as a single entity within the game, as well as clarifying that both characters are in their adult form, while filling the gaps in telling you who would take the final three slots.  The only matter up in the air is exactly what the combo's All-Star move is.
Despite the quick exit from the website, we expect the Akira / Jacky combo to be made official by Sega at some point soon.  We are less than 6 weeks away from the release of ASR, and there is still plenty to be revealed.  We'll be on top of it all for you.