Only Sonic Playable in Project Needlemouse
by Tristan Oliver
January 15, 2010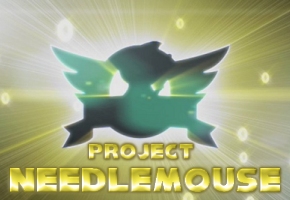 First Details After Sega Contest Success
Sega has made good on their word to reveal details about Project Needlemouse today, after their week long Sonic trivia challenge proved an incredible success.  However, what they revealed wasn't much.
Today, we now know for certain that Sonic will be the only playable character in the game.  On Monday, we had projected anywhere from 1-3 characters would make the cut from the list of 11 given.  Most everyone agreed that Sonic was a given–it was only a matter of whether Sega would throw a curveball and add to the roster.  To be sure, Sega also affirmed that "no new characters" would be introduced in the game–"playable or otherwise," according to the reveal.  That may be important, as it still opens the door for Tails or Knuckles–who were not mentioned in Sega's list this week–to make a classic, non-playable cameo.
Sega had also had some concept art to show of a Kanipanchi-esque Badnik, and according to Sega's USA blog, the art is meant to dictate the next Sonic's direction:
This art reveals an enemy from the game – but at the same time, it also reveals much more about the spirit, and direction, that Project Needlemouse is taking. For all of you older fans who were stoked by the news above, this should be the icing on the cake. Take a look, and click to see the full-sized image.
Here is that artwork, below.  You'll notice that there is Japanese markup on the work, so at least some of the final product will be the work of Sega's Japanese division.  That we have it on an angle, in 3D space, may also tell us something.  So, we don't have video, screenshots, or even a formal name–just the art and the assurance that Sonic will be going solo in his next game.  Do you think this was worth the trivia hassle?  Tell us in our comments section.