UK Sonic Spinball Roller Coaster, Hotel Confirmed with SOE Support
by Tristan Oliver
January 22, 2010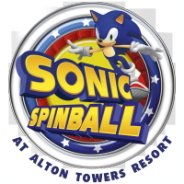 Prepare to Be Blue at Alton Towers next Month
A press release and a report from the UK's MCV has confirmed Sega Europe and the UK's Alton Towers Resort are teaming up to deliver a full Sonic experience.  You mat have heard that to include a roller coaster, but it appears to be beyond that.
The presser cites a three year exclusive partnership between SOE and Alton Towers, and it will include the Sonic Spinball rollercoaster, as well as Sonic themed rooms at their hotel.  Both will be available at the resort on February 13th.
More information can be found in the press release below.
LONDON (TBC January, 2010) – SEGA® Europe Ltd today announced an exciting three year partnership with Alton Towers Resort, the most popular theme park in the UK. The deal, which gives SEGA the exclusive videogame rights at the resort, also marks the first time a videogame character has been given their own 'Ride and Stay' experience at the popular UK attraction.

The sponsorship will encompass the launch of a Sonic The Hedgehog branded rollercoaster and Sonic The Hedgehog themed room at the Alton Towers Hotel. The Sonic hotel room allows guests to live, sleep and even play the latest games from the Sonic franchise in a room dedicated to the famous Sonic videogame universe. The rollercoaster, entitled Sonic Spinball, and the Sonic hotel room will open to the public on 13th February 2010.

"We are delighted to be working with Merlin Entertainments and Alton Towers Resort" commented Amanda Farr, SEGA Europe UK Marketing Director. "Partnering Sonic with one of the UK's most popular destinations for a family day out is a fantastic opportunity for people to engage, and have fun, with the Sonic brand. I'll certainly be there at the launch of the rollercoaster to have my turn!"

Morwenna Angove, Sales and Marketing Director at the Alton Towers Resort, said: "It's a great joint venture between the Alton Towers Resort and SEGA. The affiliation of both brands will add to the great family offering at the Resort for kids seeking fabulous family fun and adrenalin addicted adults".

Sonic The Hedgehog has starred in a number of videogames since his first appearance on the SEGA Mega Drive back in 1991, his next videogame outing will be Sonic and SEGA All-stars Racing, launching Feb 26th 2010.