Andy Garcia Visits Sonic Team
by Tristan Oliver
January 27, 2010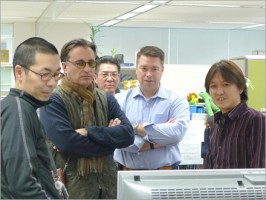 "Love Somebody Else"…Like Sonic
Up until his death, Michael Jackson was long considered the most famous Sonic fan in the world.  But as it turns out, Sonic has other friends in high places…like well known actor Andy Garcia.  As the picture you see here suggests, he visited Sonic Team offices in Japan recently.
Sonic Team staffers touted the appearance on the Japanese Sonic Channel blog–giant limousine arrival and all.  The translation is a bit rough, but it turns out Garcia's been a long time fan of the hedgehog.
It's a good thing, too–since the actor's kind of a big deal.  Andy Garcia's more notable appearances include The Godfather: Part III, Smokin' Aces and last decade's the revival of the Ocean's series.
So, Garcia got to see how the team works, and in return, Sonic Team staff got a few pictures with the star and a few autographs signed, including a few expressing his thanks for the tour.