New Video: Dark Reign Dev Releases 3D Dev Kit
by Tristan Oliver
February 1, 2010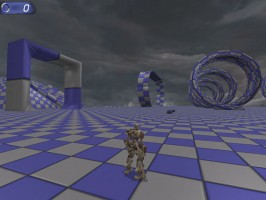 And you can Tinker with it Now
Xaklse, One of the main brains behind 3D Sonic fan game Ashura: Dark Reign, has been hard at work on another fun project–this one to benefit budding SFG developers everywhere.
It's called SonicGDK, and it was shown off over the weekend at Sonic Fan Games HQ, with a link to download the first build.  Based off the Unreal Development Kit, SonicGDK is meant to be a 3D game engine for Sonic games, with plans for physics and the like for the final version.  Much of the A:DR team is behind this build, including Dekrayzis and Digimaks.
You'll note that the kit doesn't include Sonic as a character; that appears to be deliberate.  But there are plenty of other Sonic things; including a Homing Dash, a Speed Dash, and other Sonic physics.
To give you a taste of what to expect, we have video provided below of the engine in action.  Even in its early state, the engine is shaping up well–but the real test will be what fans can do with it.