New Sega hardware debuts this summer
by Ryan Bloom
February 2, 2010
Sort of. Maybe? Or, er, maybe not.

Going on 11 years since the end of the Sega Dreamcast, we've grown accustomed to stories about how the Dreamcast is "still thinking" because some semi-obscure independent game or Japanese "bullet hell" shooter managed to find a limited release online. But there are those who have held out hope. Hope that one day, Sega really will re-enter the console hardware race. "The Dreamcast 2 is coming". "Believe."
Ahem.
Those of you on pins and needles for the newest generation of Sega gaming hardware may not have to wait any longer, thanks to the recent reveal of the "Sega Zone" over at gadget news blog Pocket Lint.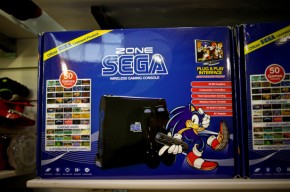 Billing itself as an "Official Sega Licensed Product", the Sega Zone (or is it "Zone Sega"?) is a Wii-esque home game console boasting a total of 50 pre-loaded games. Of the 50, 20 of those are classic Sega Genesis games like Sonic & Knuckles, Ecco the Dolphin, Bonanza Bros. and Shinobi 3. 14 games are listed as "Arcade Games", though if the box art is any indication, don't expect anything like Afterburner or Space Harrier – seeing as "FIGHT & LOSE", "BOTTLE CAPS RACE" and "MR. BALLS" aren't Sega properties. The remaining 16 games are made up of "Interactive Sports Titles", utilizing Sega Zone's Wii-like motion controls in everything from Table Tennis, to Darts, Fishing, and Golf.
The device is priced at about £50 and is expected this summer. For those of you who don't have the patience for summer and want to get your retro on right now, Firebox offers (or offered, as they appear to be sold out) the "Sega Mega Drive Twin", a compact Genesis console that comes pre-loaded with 15 games and has the ability to play your existing Genesis cartridges (should you still have them around) – something the Sega Zone cannot do. But that's all the Mega Drive Twin can do – if you want to play classic Arcade games like "CHECKER" and "JACK'S PEA", you'll have to stick it out until the Sega Zone is released in a few months.