Special Edition Sonic Classic Collection Also to Australia
by Tristan Oliver
February 11, 2010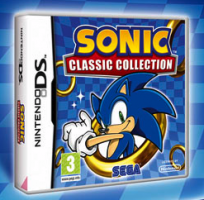 Figurine & Cards Going Down Under
That special edition of Sonic Classic Collection for the Nintendo DS we told you about yesterday won't just be exclusive to Spain.
Importers take note–today, the Sonic City Blognik revealed the special edition will also be coming to gamers in Australia.
If you recall, the special bundle includes five art cards, and a 5cm figurine–all bundled with the game in a special tin.
No price details were disclosed.  Also not disclosed–why these great items aren't being planned for domestic territories.  Oh well–you've always wanted to learn Spanish and/or Aussie rules footy, right?
For the rest of us, Sonic Classic Collection will ship in March.