How to ASR Yourself on Facebook
by Tristan Oliver
February 12, 2010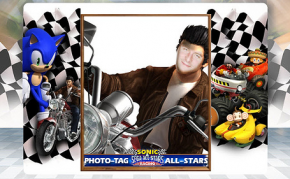 Now You, Too, Can Search for Sailors
You're looking here at the final results of a new social media application, as demonstrated by the Sega of America community team.  Except that's not really Ryo–it's a SoA team member superimposed.
If you're not well versed in Photoshop and need something to do over the weekend, you may want to check this out–the Facebook application, available on the Sonic & Sega All-Stars Racing fan page, allows fans to work some magic not just with themselves, but with other Facebook friends.
Users can take photos and superimpose them on a few ASR characters, as well as other noteworthy images.  Your artistry can then be shared with the social media world.
For complete instructions on how to use the app, head to SoA's blog post on the matter.  If nothing else, it's a decent step up from Avatars and Miis.