On EBay, a Sally Acorn Figure…from 1991
by Tristan Oliver
February 21, 2010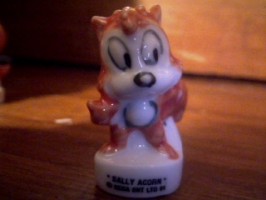 Along with Other Promotional Figurines
Take note, SatAM and Archie fans: This may be Sally Acorn as you've never seen her before.
The EBay seller putting this up for purchase at $100 claims it's from 1991.  Many of you are probably thinking that Sally didn't come to exist until 1993, with the beginning of both the comic and television series.  As it turns out, that's not quite the case; Sega did have an unnamed squirrel with a pink bow included in an origins comic distributed in 1991.
What you see here appears to be that squirrel, with one major difference: It came from Europe as part of a separate promotional release, according to the seller.
The seller also has other Sonic figurines for sale, but some of the years don't match up; for example, here's a Knuckles figurine also purportedly from 1991.  But other listing do make sense, like the ones for a Motobug and Burrobot figurine.
If you want to take the plunge but are worried about the authenticity of any of these figurines, worry not–the seller as a 100% positive feedback rating.