First Sonic Classic Collection Review
by Andrew Paulson
March 9, 2010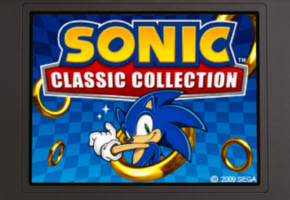 To IGN, the compilation is a great value that is flawed…
Sonic Classic Collection hit store shelves last week and we finally have our first review of the Nintendo DS compilation. IGN is the first to take the game for a spin and discuss their thoughts on the title.
Sonic Classic Collection is a good, but flawed compilation for the Nintendo DS that just screams "small budget, short development cycle!" It is what it is: four great Sonic games accurately ported to a half-assed compilation.
Giving the game a 7.0 rating, the biggest issues appear to be its squashed resolution and slapped together emulated presentation. The often mentioned save feature isn't as useful as other ports of the same games (Xbox Live Arcade), considering it does not save the exact spot you're at, instead sending you back to the start of the level you were playing.
IGN mentions how the game is a good value for the $29.95 price tag, featuring SEGA Genesis ports of Sonic The Hedgehog, Sonic The Hedgehog 2, Sonic The Hedgehog 3, and Sonic & Knuckles. It is also mentioned that the game lacks any real extra content outside of the actual games, featuring a few extra artwork samples here and there.
Sonic Classic Collection hit store shelves on March 3rd, 2010 for the Nintendo DS in North America. Check out the full review of the game at IGN and keep a eye out for our review of the compilation at TSSZ News very soon.