RUMOR: Is this Snapshot from Sonic 4?
by Tristan Oliver
March 16, 2010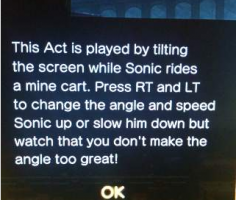 Might We Have a Peek at Lost Labyrinth?
Yes, what's above is a poor crop of an existing cropped screenshot that we have below, and quite frankly isn't much better.  We're treating this as rumor for the moment, but what's below may be another leaked artifact from the upcoming Sonic the Hedgehog 4, as was seen on Sega's own forums.
The text isn't what's immediately important, it's what above and below that's noteworthy.  The art style has fans suggesting this may be part of an act from Lost Labyrinth, which is a change of pace from the myriad of Splash Hill shots we've been used to.  Interestingly, Sonic is nowhere to be immediately found in the shot.
There are some context clues in the poorly worded description, though.  For one, the reference of RT and LT–controllers on the XBOX360–suggests this may be part of another PartnerNet leak, even though the dimensions of the shot have some wondering if this could be from the yet to be announced iPhone/iPod Touch port.  But if any part of it's true, we can expect an act taking place in a mine cart, almost entirely guided with simple or motion controls.
So, have a look below, digest it, and share your own extrapolations in our discussion area.  Keep in mind, if this is legitimate, the image may be subject to sensitivity guidelines recently set by TSSZ News.