Multiple GameWorks Locations Close
by Tristan Oliver
March 30, 2010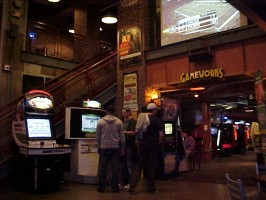 Sega Owned Arcade Chain in Trouble?
The arcade in of itself was already a dying breed, with home entertainment continuing to be the gamers' choice of play.  A seemingly unannounced move like this by one of the great names in arcade machines does not help matters.
We're referring to the sudden shutdown of several North American GameWorks franchises, now owned by Sega Sammy Holdings and operated by Sega Entertainment USA.  The dominoes fell today, starting with the sudden shutdown of the Ybor City location near Tampa, Florida, as reported by Tampa Bay Online.
The close came without warning and disrupted, among other things, booked reservations for parties, and the lives of 57 employees who are now without a job.
We did some more digging and found that four more locations also shut their doors for good today, all in other major US metropolitan cities.  GameWorks locations in Miami, Minneapolis, Columbus, and Indianapolis are now closed–leaving just ten domestic franchises still operating.
The shutdown may be a sign of how ailing Sega Sammy's arcade division may be, at least in the United States.
A decision is pending on whether customers will get refunds on game card credits already purchased.
Thanks to Sonic Remix for sending this news tip in to us.  If you have news to share, be sure to share it with us by clicking News Tips at the top of every page.