Video Review: Sonic & Sega All-Stars Racing (360)
by Ryan Bloom
April 2, 2010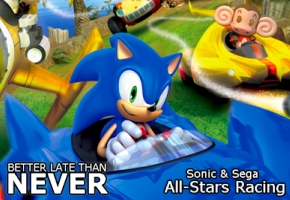 Does Sonic take home the gold cup?
As the years have passed, the Mario Kart franchise has slowly shifted its focus from being a wacky racing game to playing more like a party game, akin to Mario Party and its ilk. This has prompted a response from Sega in the form of All-Stars Racing, a game that attempts to blend the "wacky racing" vibe of earlier Mario Karts with gameplay that rewards skilled driving. Does it succeed?

(Can't see the video? Click here!)

Note: As blogs are now required to disclose these things by law, we would like to state that TSSZ News was provided a review copy of this game courtesy of Sega of America.