Sonic the Comic Continues Online with Issue #251 Release
by Tristan Oliver
April 21, 2010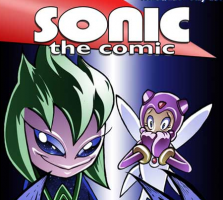 Playing the Universe Game, Inside
It did not last as long as the Archie comic, but the Fleetway Sonic the Comic, at one point Britain's official Sonic comic, retains a strong following.  There is no better evidence of that than in the continued unofficial adaptation of the Fleetway series through Sonic the Comic Online.  The franchises nearly picked up right where the official comic left off in 2003, and this week, its 251st edition was released.
The comic retains several elements of the Fleetway series, including the execution of four separate stories within an issue.  In issue 251, Sonic enjoys a go at The Universe Game, while Tails visits the Nameless Zone in a multi-part series.  The Chaotix show up too, engaged in a cyberfight–one that will also take more than one issue to conclude.  And Amy is fighting some foes in her own side story.
At the link above, you can read the latest issue, get caught up on the backstory, and even download some fan art wallpaper.  All combined, while the official Fleetway series may be gone, the continued efforts of STCO prove it will not be forgotten.  Thanks to Adamis Fox for sending the information into us.  If you have news to share, be sure to share it with us by clicking News Tips at the top of every page.