On EBay, A $4,000+ Sonic Plushie Doesn't Sell
by Tristan Oliver
April 26, 2010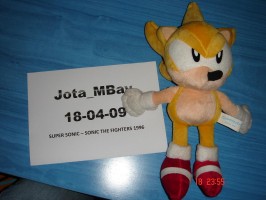 What's Rare vs. What's a Ripoff
Sent into us over the weekend via a News Tip was an EBay auction that's since closed, and likely was one you didn't know about anyway.  It's for the better, though–since you likely couldn't afford what was up to sale.
Above is a purported 1996-era Sonic the Fighters plushie of Super Sonic, brand new and retrieved from a Joypolis UFO catcher in Japan.  The seller originates from Spain, and claims it's not a knockoff.  He claims it's the "rarest plush," and giving his asking price, it better be–for the low, low price of €2,999 plus shipping, it could have been yours.  In US money, that's just a hair over $4,000.  Pocket change, really.
In some ways, it's a better value than that $10,000 misprint that surfaced on EBay a year ago.  But given how that seller had to cut his price 99 percent for anyone to consider it, we suspect a similar fate will be met here if it ever comes back on the auction block.  Buyer beware.