M&S Winter Olympics in Japan's Media Create Top 500
by Tristan Oliver
April 30, 2010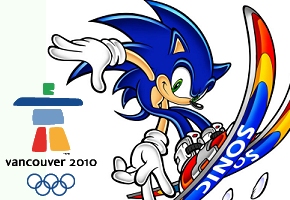 Other Sega Titles Take Top Spots, Too
Released through NeoGAF is Media Create's list of the top 500 selling games in Japan for 2009.  Sonic was represented in the top sellers via Mario and Sonic at the Olympic Winter Games–which had only been on sale for less than two months in the country.  Other Sega games were well represented.
Interestingly, the DS version, released two weeks after the Wii edition, outperformed.  The DS edition hit #68 on the list, selling more than 188,000 copies, according to Media Create.  The Wii edition was not far behind, at #102, with more than 128,000 copies sold.  It should be noted Nintendo and not Sega publishes the M&S franchise in Japan.
Other Sega published titles fared better.  Yakuza 3, released in February 2009, performed the best, coming in at #14, with more than 516,000 copies sold.  Sonic Team's Phantasy Star Portable 2 for the Playstation Portable wasn't far behind, coming in at #16–an amazing feat considering it was just released in December.  It sold more than 505,000 copies for 2009.
At #52 for the Nintendo DS was Sega's Puyo Puyo 7 with more than 215,000 copies sold in Japan.  Not far behind at #59 was the PS3 edition of Bayonetta, selling almost 200,000 copies in its almost two month release window.  Hastune Miku: Project Diva for the PSP was #70, 7th Dragon for the Nintendo DS was #90, J-League Pro Soccer Club wo Tsukurou! 6: Pride of J for the PSP was #92, and Phantasy Star Zero for the DS was #112.  The list goes on from there.
In all, Sega had 30 titles in the top 500, covering sales of more than 3 million copies.  But M&S doesn't count toward the 30–that goes in Nintendo's column, which had 49 of its titles in the top 500.
Media Create's top 500 covers Japanese sales from December 29, 2008 to January 3, 2010.