On EBay, a Sonic LCD Game from 1992 Japan
by Tristan Oliver
May 3, 2010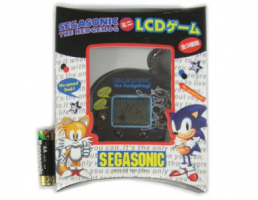 What Was a UFO Catch Can Now Be Yours
If you're in a buying mood, but don't have $50,000 to spend on exorbitant Genesis cartridges, you may be interested in this mini LCD game that's just hit the EBay auction block.
What you see in the picture here is an authentic Sonic LCD title from Japan, dated around 1992.  It is similar in nature to the domestic LCD games Tiger Electronics put out for various Sonic games of old in the 90s.  This one has a four button interface.  Excuse our Japanese, but it appears those buttons are used to maneuver Sonic away from rockets fired from overhead, as well as other hazards.
It's a rare item, according to the Japan based seller–the product of a successful UFO catch from a Japanese arcade long ago–and it can be yours for the Buy it Now price of $89.75.  Shipping is free.  It may be a better buy than the $150 Sonic R handheld currently up for auction, too.  The sale on the former ends in just about 6 days.