Sonic X on Hulu, Now with Dubbing
by Tristan Oliver
May 3, 2010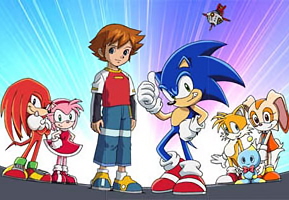 For Those Who Prefer the 4Kids Dub
Less than a month after the subtitled first season of Sonic X made its way onto Hulu, those who can't be bothered with it can now enjoy dubbed editions from most of the season.
Nineteen of the twenty-six episodes are available for your viewing pleasure, in its original 4Kids Entertainment English dub, alternate titles, and all–including the heavy edits.
Episodes 3, 4, 19, 21, 22, 23, and 24 are not yet available, but they're expected to hit Hulu in due course.
If nothing else, those interested can compare and contrast the edits between the original Japanese edition and its domestic counterpart.  You can watch the episodes for yourself on Hulu.