Gamasutra Interviews Yuji Naka Again, Says Sonic-esque Platformer on Hold
by Tristan Oliver
May 5, 2010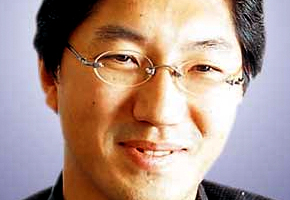 Also, Comments on Sega & Sonic CD

Yuji Naka has taken a keen interest in the Nintendo 3DS and he's as interested as anyone else to see what the future holds for Sega–but his team has stopped developing a platformer previously hinted at with Sonic-type elements.  This, according to an interview published today by Gamasutra.
The bulk of the interview centers around Prope's newest title, Ivy the Kiwi?, which last week found a domestic publisher for a Summer release.  Mr. Naka said to Gamasutra the origin of it stemmed from "an experiment" built by employees of Prope, his independent development studio.  He also said he was directly involved with programming Ivy, but did assist in fine-tuning some of its elements:
Unfortunately, I was not in charge of the programming once again. However, in my role as producer, I am working a lot closer on the heart of the game than when I was at Sega. I'm involved in the fine tuning of the gameplay balance as well, so if you think the balance is off you can write, "Yuji Naka, the game is too difficult," in your review.
Regarding his past time at Sega versus his new role at Prope, Mr. Naka said the experience speaking to multiple publishers about his content has been an eyeopener:
Since departing from Sega, I've been talking to a lot of publishers, and I'm very surprised on how differently each publisher thinks about what games are, and the strategies behind them. It's been very refreshing, and I'm learning so much from it. [….]  Compared to the days of Sega, I am now more involved in the smaller aspects of the game, so I can really mold the game the way I want to which is a lot of fun.  By the way, currently Prope has around 40 employees, and we are working on a title that is a little larger in scope than Ivy the Kiwi? at the moment.
Unfortunately, that title in development is not the Sonic-like platformer Mr. Naka hinted to the same news organization in December of 2008, and first disclosed at the 2008 Tokyo Game Show.  According to the latest interview, that's on hold:
Unfortunately, we had to stop development for the time being for the "Sonic-like platform game." However, we are in the process of developing another action game right now.
Other notes from the interview include Mr. Naka's interest in the Nintendo 3DS, and clarification on a question fielded by Naoto Oshima regarding the use of loading screens in Sonic CD.  Mr. Oshima felt Mr. Naka could have programmed those screens out, but according to the interview, Mr. Naka may have kept them.
"Technical skill depends on being in the moment and getting some kind of inspiration to overcome your current problem, and there's no guarantee it will happen every time," he said.
Finally, Mr. Naka was asked to comment on the current state of Sega.  On that point, he remains optimistic.
"Even after I've left I'm looking forward to what surprises they'll come out with," Mr. Naka said.  "It's pretty fun watching from an outsider's point of view now."